10 houses and beds for cats with pure design and architecture
Design and architecture enters the feline world.
See how these cat houses and beds fit perfectly into your home decor.I think everyone here has a friend who has a cat at home. They have become the perfect pet and this is well known by designers and architects who have begun to design cat beds or small houses enhancing good design without losing its functionality.
They are products that sell well and in design there is the opportunity to stand out in a market as competitive as it is overwhelmingly original. So we are going to see some very disruptive cat houses with everyday
Gest cat houses 2020
1.- Simple but perfect designs
From Japan and with a lot of love, the MYZOO studio is a brand specialized in pet houses and accessories that stand out for their simplicity, but originality. Over the years they have achieved an important presence and international recognition for their designs.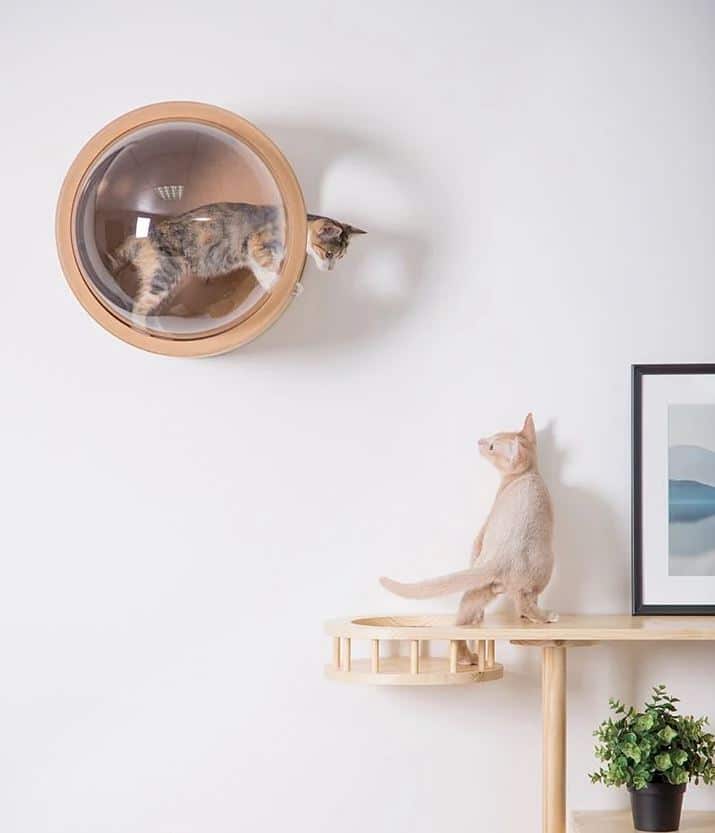 They have created a line of cat beds called "Spaceship Series". The series has three models of houses inspired by spaceships. One of them can be hung on the wall, another model is supported by a piece of furniture and the third is placed on the floor.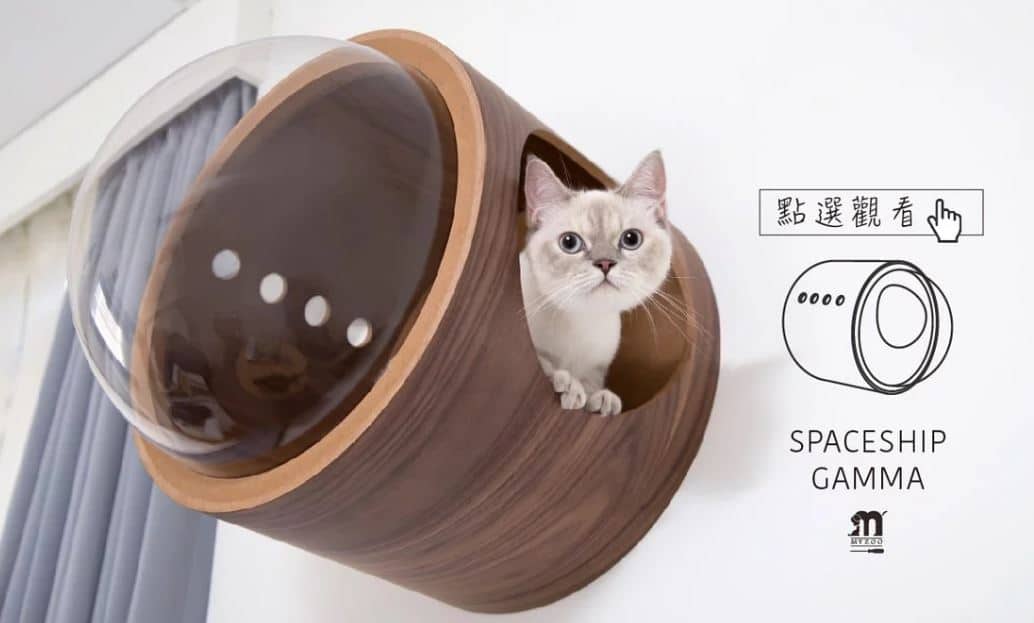 MYZOO products can be purchased in Amazon Spain from here , although we already warn that they are not cheap.
From the same brand, in the line of this series of accessories and "small homes" it has many other accessories that have dazzled us, such as a moon hanging on the wall so that the cats can rest easily.
They are all very original!
2.- A duplex house for cats
Creating by the INDOT design studio and this time much more complex with this architectural project. Play a cat duplex with clear wooden frames and glass doors that allow animals to interact with the family whenever they want.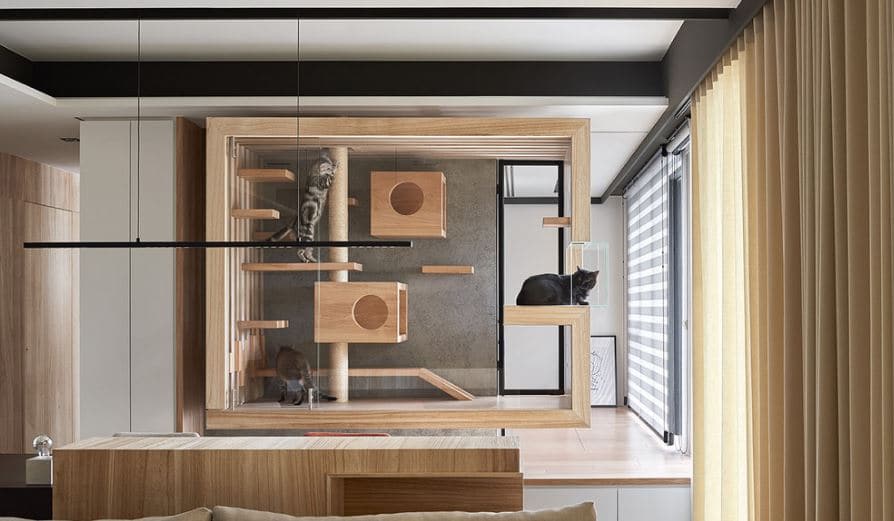 Obviously, this proposal is much more complex and adapted in particular to the home, but we want to highlight that these are projects that are being carried out and contemplate new concepts and forms of coexistence with the cat world .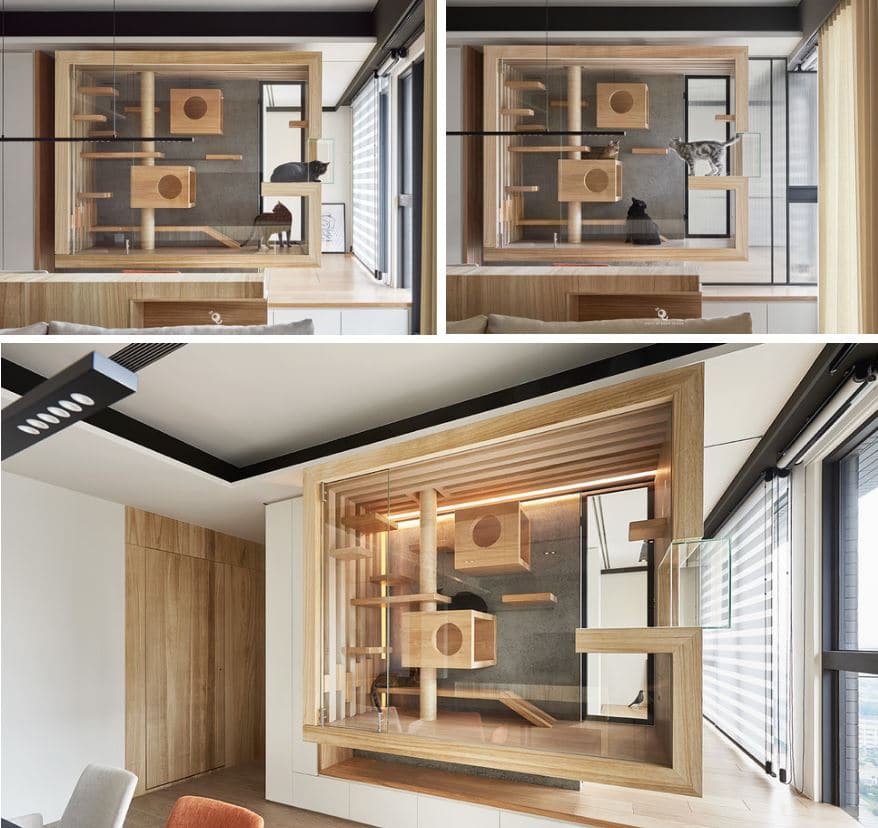 3.- The concrete house
From the Standard architecture studio they offer us a work of art converted into a mini house. Pure materials; Perfectly combined concrete and wood highlight this spectacular cube-shaped cat shelter. We think it's a spectacular design!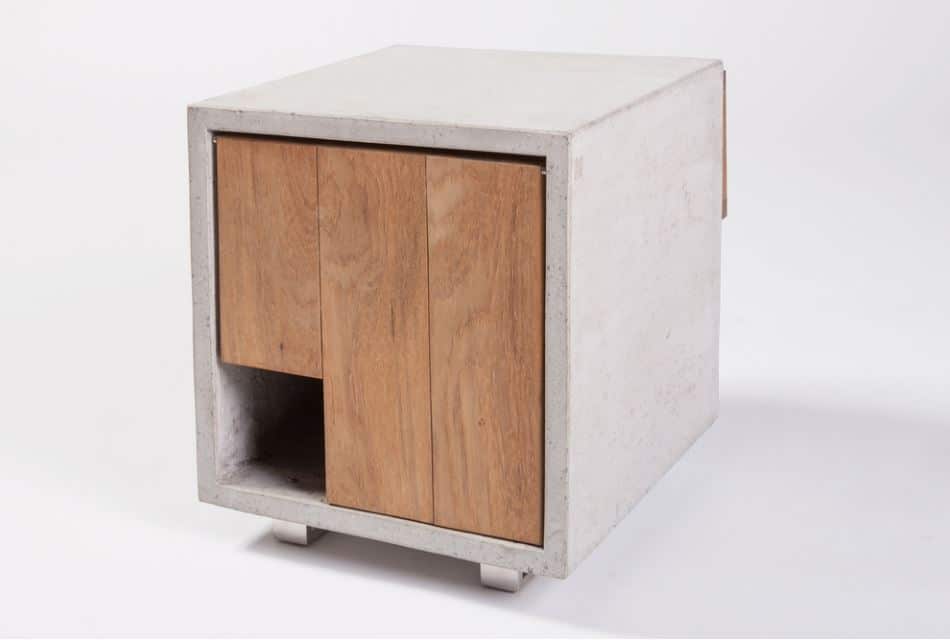 Designed with the goal of satisfying cats' desire for heat. The high thermal mass of concrete accumulates heat during the day and slowly releases it at night. The interior is split-level and protected from inclement weather, and a second opening at the rear allows for quick escape.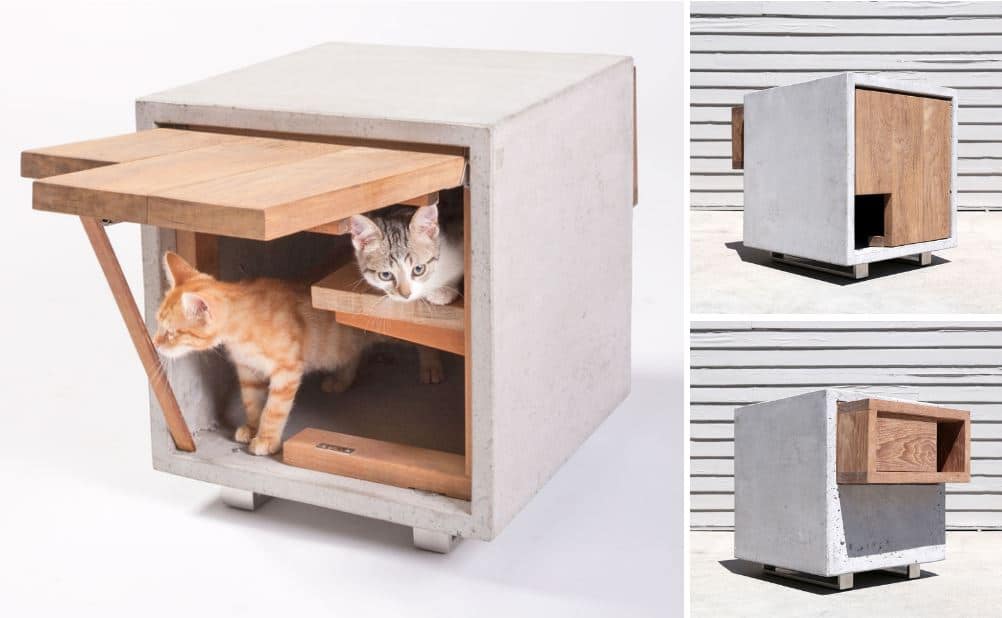 4.- The IKEA of cats house
Swedish famed furniture store Ikea also joins in addressing industrial pet home designs with tasteful aesthetics, easy to assemble – of course – and a very low price.
The LURVIG line focuses on different accessories and products for pets, specifically for cats and dogs. The designer of the collection, titled Lurvig, is the designer Inma Bermúdez, who designed following the guidelines of veterinary Barbara Schäfer.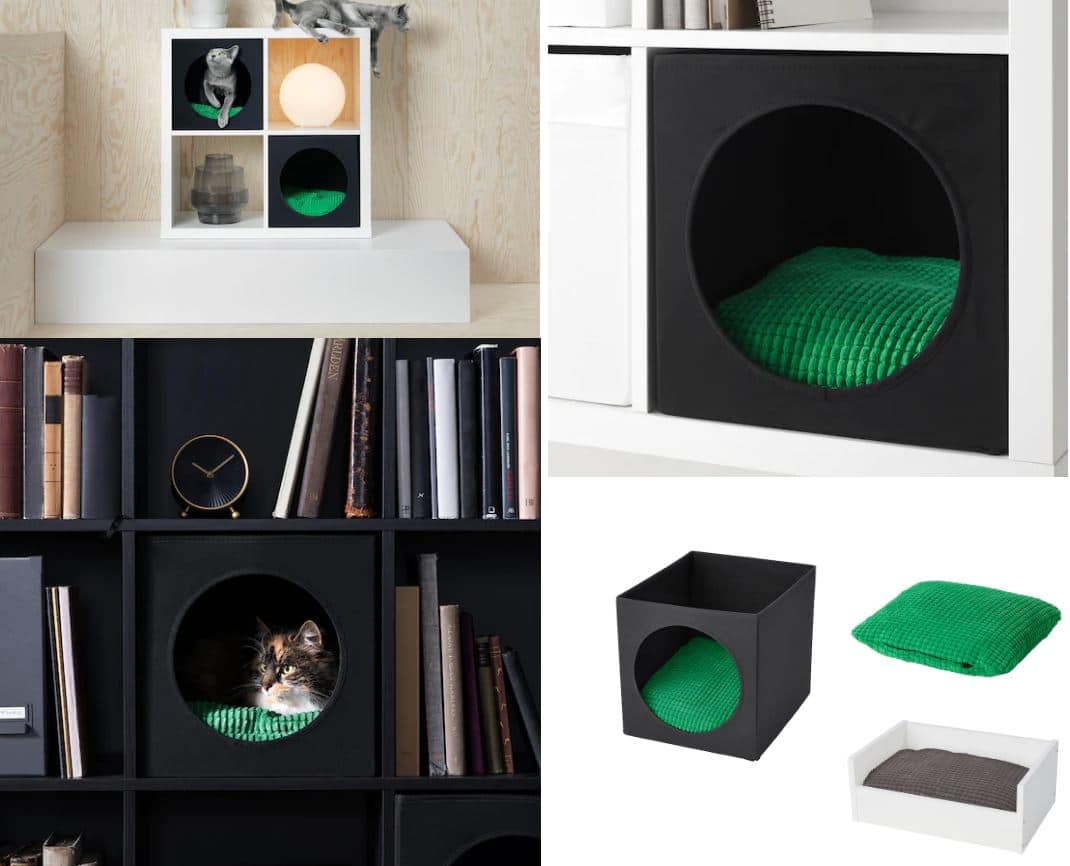 5.- Beehive house
Many objects and accessories for pets do not have a design made to decorate the home or at least, they do not attract as much attention. However, some brands have taken it very seriously creating objects that are true works of art. And the company Petsinboxes is a perfect example of how design is not at odds with animals.
A German green company that is succeeding on social media with a bed in the shape of a little house suspended for cats to hide or sleep.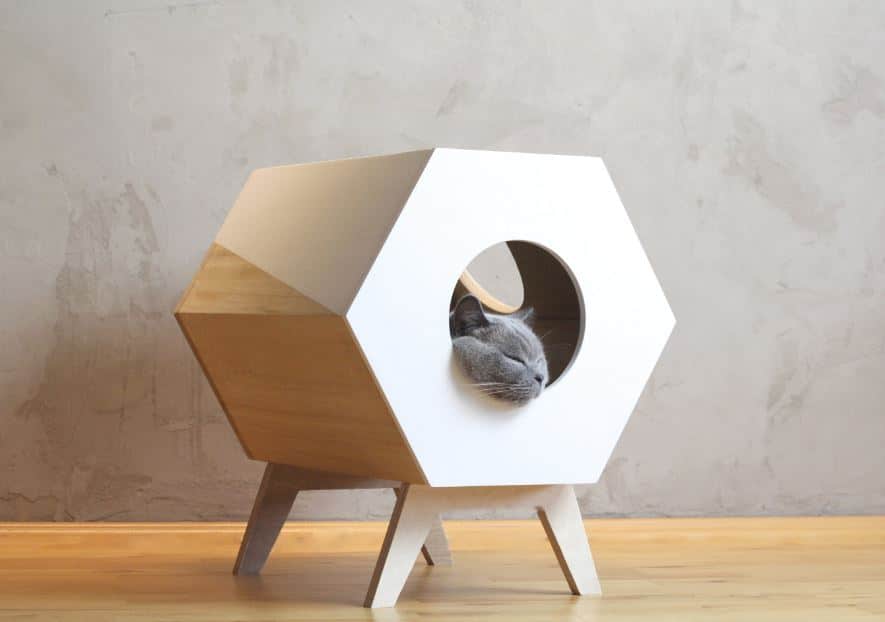 The hive-shaped design is available in some variants: with the front open, another with two holes for the cat to move at will and a mixture of these combinations.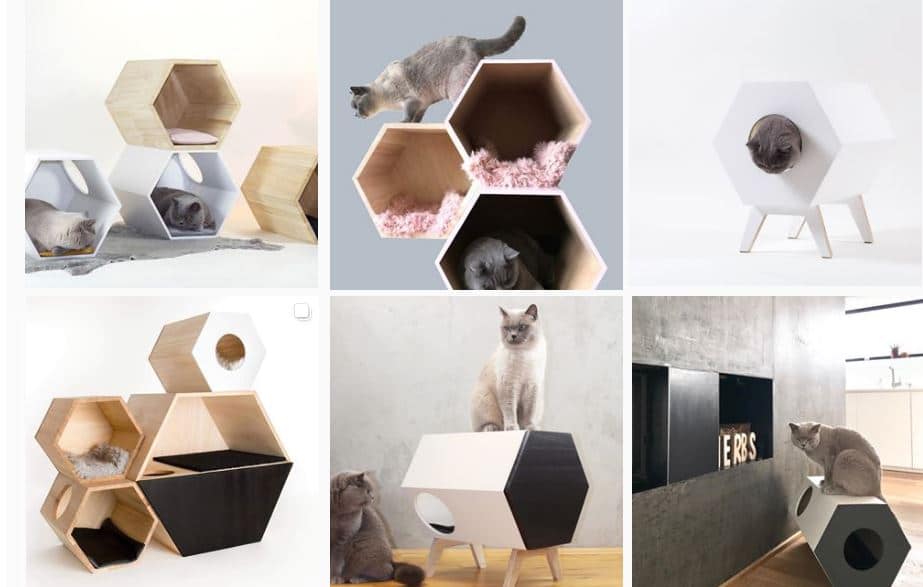 Colors combined with light wood include black, pink, white, and blue; and the format also allows to create an incredible modular structure at the whim of the owners creating a maze of cat houses . Pure minimalist design perfect for any home!
6.- Art house
The architecture studio Abramson Architects is not only dedicated to constructing excellent sustainable buildings, when they "get bored" their imagination overflows in cat houses.
This flexible modular system uses magnets to hold the parts together, allowing pet owners to configure the number and type of units that best suit the needs of their cats. Playful colors on the outside and felt lines on the inside of each module drive any animal crazy.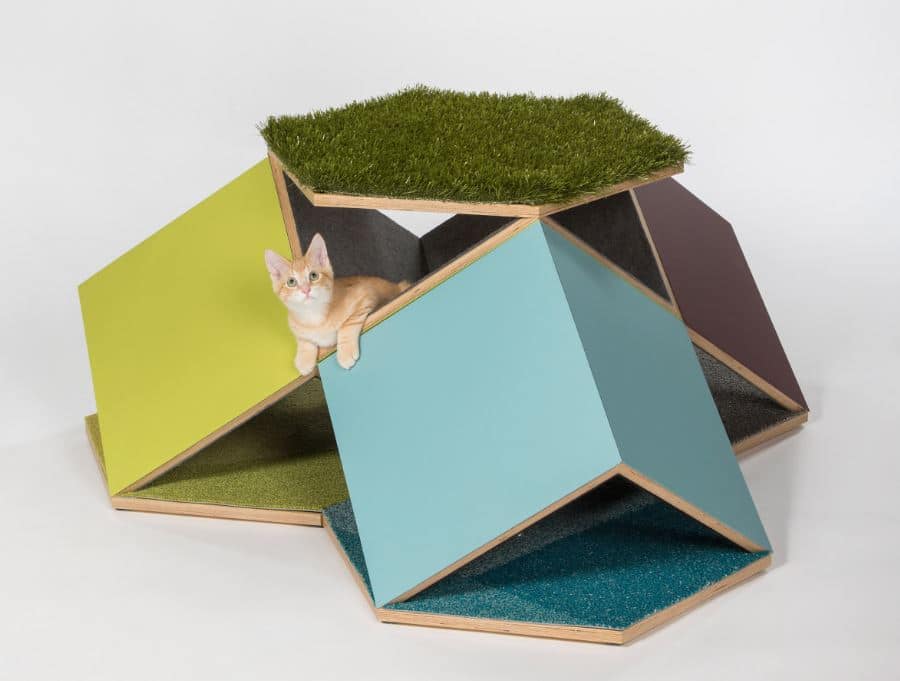 Tiles and grass can be easily removed for replacement or cleaning, providing a perfect base for lounging and scratching. The felt pads are also attached to the bottom of the box to lift it off the ground, allowing the unit to slide easily across the floor.
7.- Sheep wool bed
Designers do not always have to imagine complex structures, this time, simplicity is good taste and a mini bed that can adapt to any place in the home.
This bed is made from natural Tyrolean sheep wool, not dyed. It is available in beige, brown, natural light black and dark gray colors. Only hot water and soap are used for the cleaning process. The bed is strong, resistant and soft to the skin. They already have a perfect nap place!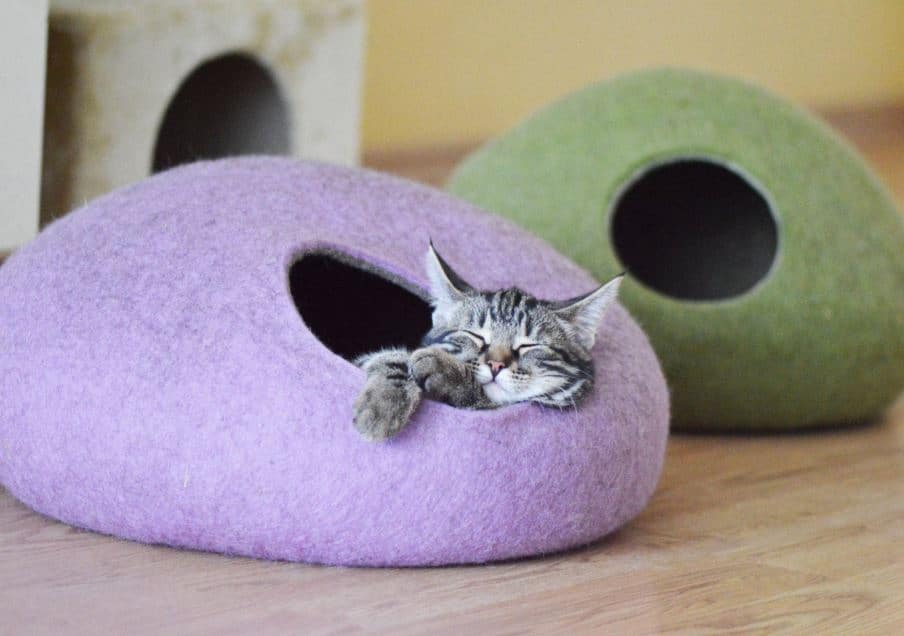 The idea is from the Home Soul company that is dedicated to working all kinds of ideas and objects with natural materials.
8.- Modular beds
Of course, a cardboard structure could not be missing from this list. We have seen many, but we find this modular and stackable proposal for creating buildings quite interesting.
This Taiwanese brand called Acat Thing used the cardboard material to create a collection with a modern design that allows to build a true city for cats.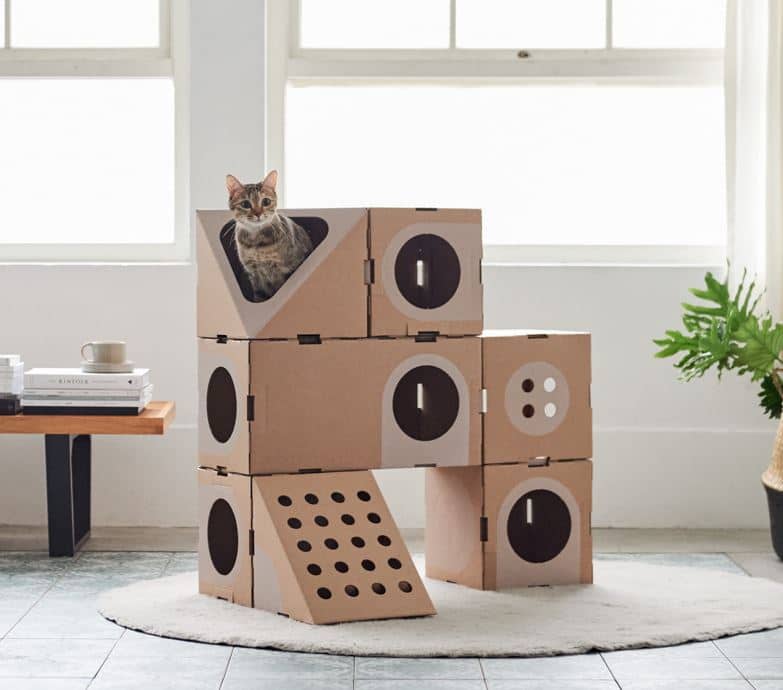 There are countless mounting options and four customizable environments; bedroom, living room, balcony and ramp. With a minimalist appearance, the boxes can be stacked to make way for a small building and have openings of the most varied geometric shapes.
9.- Sofa for everyone
South Korean designer Seungji Mun has created a sofa concept that is designed to keep the feline world playing while you sit back to relax.
Dubbed the Cat Tunnel Sofa, the concept tries to provide a seamless harmony between the daily activities of pets and their owners… "For humans, it's just a comfortable sofa, but for cats, it's their playground and comfortable bed. "
The Cat Tunnel sofa has a play tunnel that runs along the arm, back, and sides of the sofa. The creative design not only complements the modern look of the sofa, but also provides a playground created specifically for the way cats behave. They can run through the tube, jump through the three different openings or sleep in a protected place where they will not be disturbed.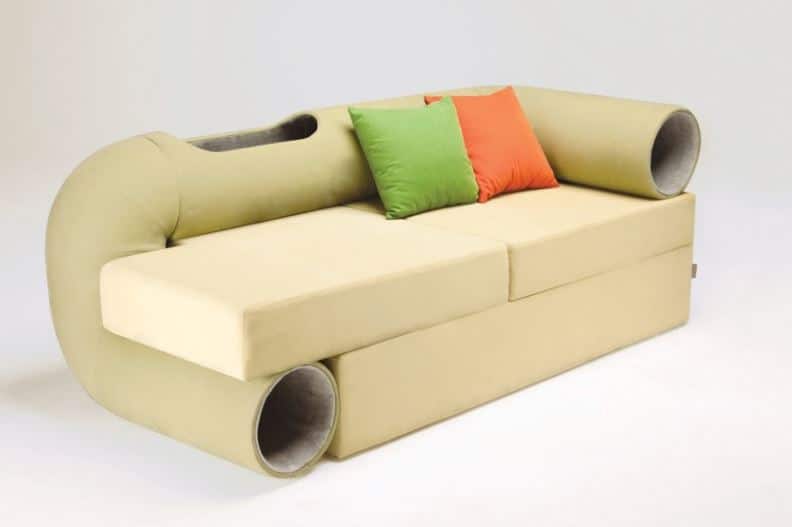 10.- The cat gym
From the hand of the Milo studio and specialists in cat games , they show us a rope to scratch, a structure to get on and off, and a slide to slide that can scratch everything they want, shapes "the best playground for cats ".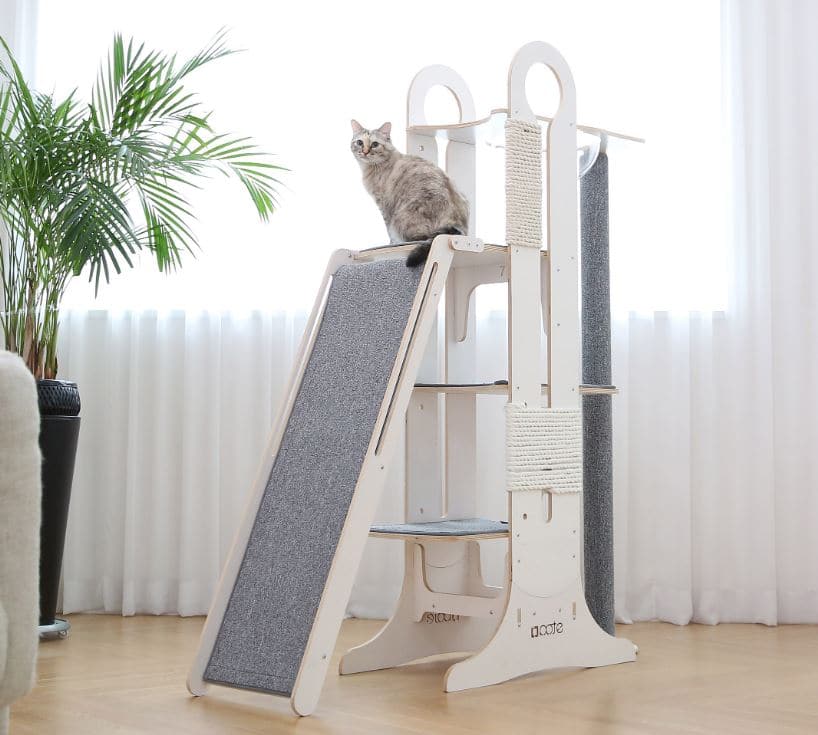 Created by designer Sang Nam-Park, it presents a structure with curved and straight sections of plywood that come together to build a compact frame with different levels where cats can play.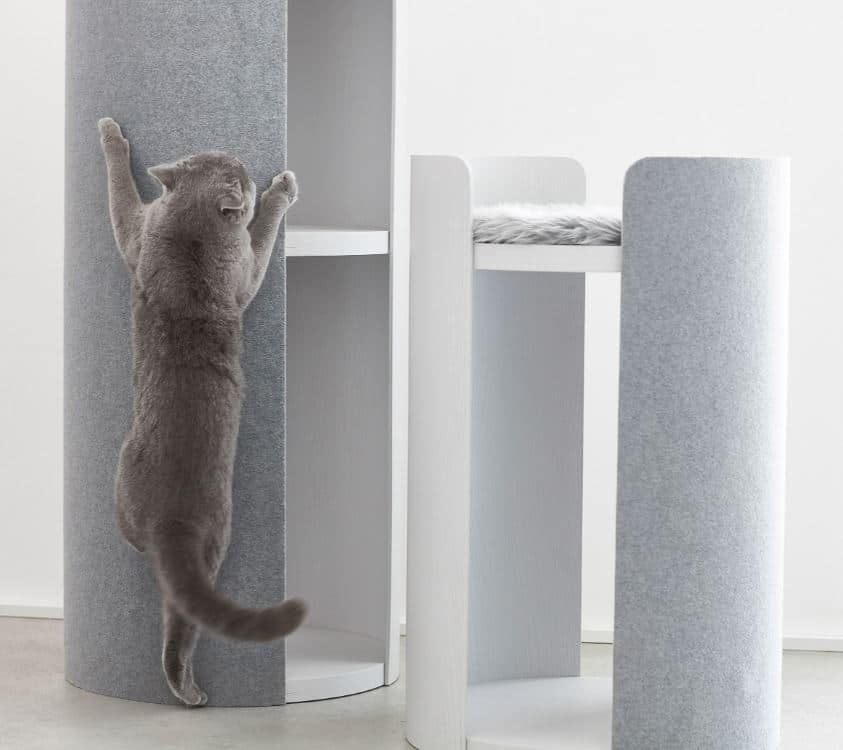 The Tuft + Paw collection, which also includes a series of cat beds, follows a series of products focused on design for the care of cats.
If you liked this article, share it!